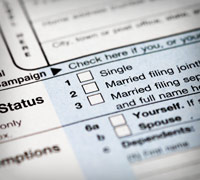 If you got married last year, then you and your spouse know what it's like to go through some firsts together. Now get ready for another one—it's time to face the IRS for the first time as a couple!
IRS Now Pronounces You…
You can file as married if you were married on or before December 31. of last year To file jointly, report your and your spouse's incomes and deduct your combined allowable expenses. You can file separately if it lowers your tax bill, but doing so rarely makes a difference.
You and your spouse can either itemize or take the standard deduction, whichever saves you the most. The standard deduction for a married couple filing jointly is $11,900 this year. If you want to itemize, the total of your individual deductions such as taxes, certain types of interest, medical expenses, charitable giving, etc. will need to be greater than the standard deduction.
Marriage: A Bonus or a Penalty?
You may have heard of the "marriage tax penalty," referring to the fact that some couples fall into a higher tax bracket filing jointly than they do filing separately, causing their taxes to be higher. This issue has been resolved in the low-to-mid tax brackets but still tends to affect some higher-income couples.
The "marriage bonus" is actually more common. Income levels for the 15% and 25% tax brackets for married couples are exactly twice the level of the same brackets for singles. That means couples with significantly different incomes can benefit. For example, say your spouse makes $25,000, putting him or her in the 15% tax bracket, and you make $40,000 and fall in the 25% tax bracket. Filing jointly on your combined income of $65,000 puts both of you in the 15% tax bracket. If you take the standard deduction, you may save some money over filing as unmarried singles! Of course, it all depends on your particular situation.
It's a good idea to get help filing your taxes so you can be sure your bases are covered. One of our tax services Endorsed Local Providers (ELPs) will explain your options and help you make an informed decision.
Start Things Off Right
As with anything tax-related, you'll want things to go as smoothly as possible. Take care of these items now to make filing simpler:
Report your name change to the Social Security Administration so your name and Social Security Number match when you file your return. If they don't match, any tax refund will be held up until you get it resolved. Simply download Form SS-5 from socialsecurity.gov and file it with your local Social Security office. If you're too close to the filing deadline to change your name, you can file with your husband under your maiden name and then change your name before next year's tax time.
Let the IRS know if your address has changed by filing Form 8822. You can download this form at irs.gov.
Stay consistent by notifying your employer of any name or address changes so you'll be sure to get your W-2 on time and with the correct information.
Adjust your withholding from your paychecks to reflect the change in your household income. You can't rely on the IRS tax tables to get this right, however. Take some time as you complete your taxes to determine how much should be withheld to meet next year's tax obligation without resulting in a huge refund.
Remember, you don't have to handle these issues on your own.
This article as well as many other great tax and finance tips can be found on www.DaveRamsey.com http://www.daveramsey.com/blog/tax-filing-tips-for-married-couples/